Hamilton and the greater Waikato region has experienced unprecedented growth in recent years, which not unsurprisingly, has only been exacerbated by the events of COVID-19.
Hamilton is an innovative, fast-growing inland city with superb transport links within the golden triangle (Auckland and Tauranga) and wider Upper North Island.
Well-known for its primary production, hightech manufacturing, tertiary education and research sectors, Hamilton now plays host to a burgeoning tech sector. The population is young, smart and welcoming to newcomers as many people in the larger cities seek more affordable housing and a better quality of life.
The latest Hamilton Occupancy Surveys conducted between NAI Harcourts and CBRE Research shows:
Industrial vacancy sits below 1%, a historic low
CBD Retail vacancy sits at 5.8%, the lowest since the survey started in 2008
CBD Office vacancy sits at 8.1% (A & B grade office averages 3.9%, while D & E grades average 16.3%)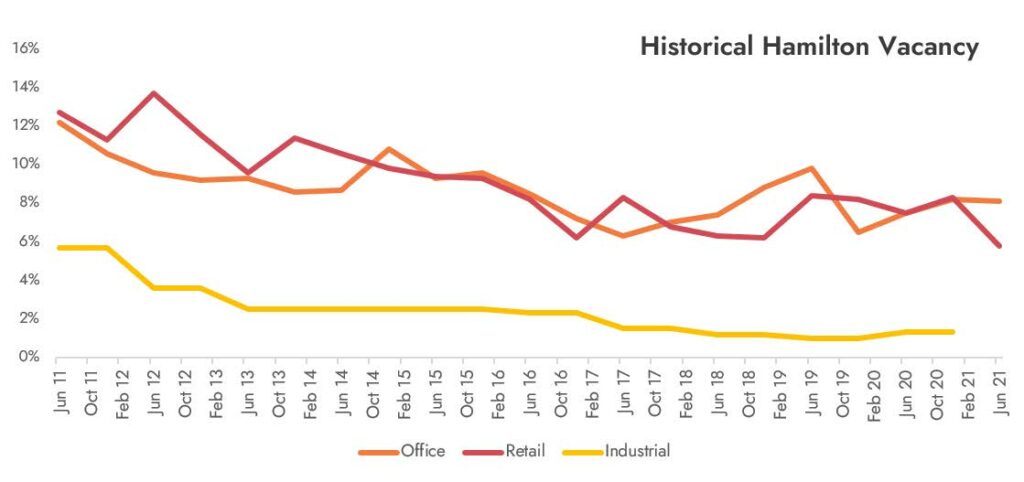 Having a lower risk of government imposed lockdowns such as with the current pandemic, Hamilton's strategic location within the Golden Triangle and its key transport links to Auckland's and Tauranga's ports and international airport, have increasingly led to Hamilton's attraction as a central logistics hub.
Tainui Group Holdings' Ruakura Superhub is set to become New Zealand's largest integrated commercial and lifestyle development with the 480ha estate providing an inland port of 30ha and industrial and logistics park of a further 263ha. This multi-generational asset will see Tainui Group Holdings and Ports of Tauranga partner to develop a 50:50 joint venture to bring the Ruakura Inland Port to fruition.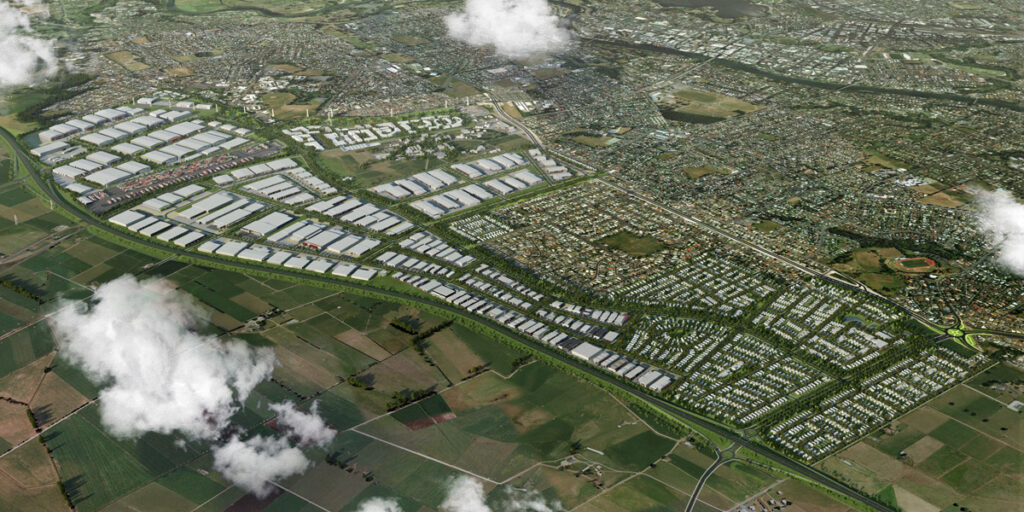 Industrial vacancy continues to trend lower across all of Hamilton's industrial precincts; driven by increasing business activity in all sectors. Te Rapa and Hamilton Airport precincts have several design-build projects underway for national providers such as IAG-Repair Hub, Steel & Tube, Bidfood, Multi-Spares and NZ Windows, with a number more planned. There is increasing enquiry for space from outside this region, particularly from Auckland; enquiry from materials suppliers and manufacturers looking to counter the risks created by various COVID-19 lockdowns in Auckland. This has put increased pressure on land supply and pricing within Te Rapa Gateway and Northgate at Horotiu. Hamilton Airport is also experiencing demand for land, as other options become more limited.
Hamilton CBD where several new developments have either been recently completed or are now underway. This includes the recent completion of Tristram Precinct (13,000m²) for Waikato Regional Council, WSP and Spark.
Union Square, once completed, will comprise 5 buildings, totalling circa 23,000m² and 18 retail outlets. The first building will be completed in November 2021 and will house Rabobank's head office and AA Insurance. Additionally, Tainui Group Holdings 8,000m² development for ACC is well under way and the new $75m Waikato Regional Theatre will be breaking ground over the next month or so.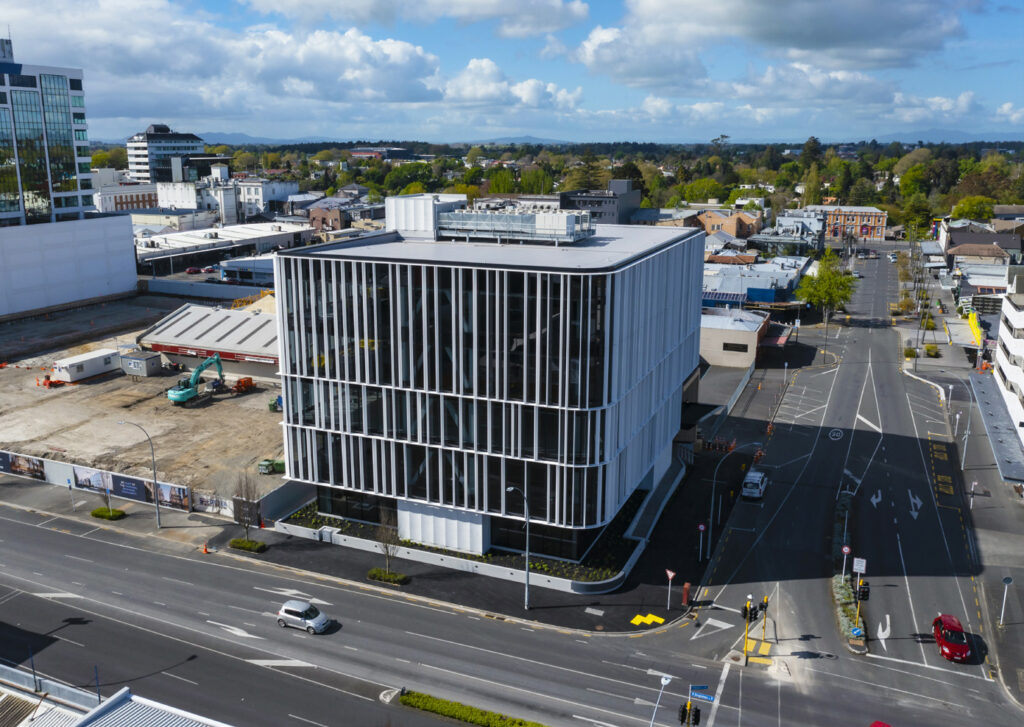 New occupiers such as diverse eateries and services for the local population are making the CBD a niche retail destination, that is both walkable and vibrant. Tainui Group Holdings and Kiwi Property have announced a joint venture for the redevelopment of Centre Place Shopping Centre, which includes a large vacant corner site on Victoria and Ward Streets which will ultimately be developed as an office tower of six plus levels.
Hamilton City Councils decision to incentivise intensified residential development by providing a remission on development contributions and removing building height restrictions within the CBD, have been important factors in the development of apartments and mixed use developments, which are activating the inner city and supporting businesses going forward.
One bespoke mixed use development situated within easy walking distance of the CBD is Hills Village, a master-planned community of residential living, work-live apartments and commercial offices, situated in the neighbourhood of Hamilton East. The first stage being The Hills, consisting of 19 architecturally designed apartments and penthouses which have been architecturally designed.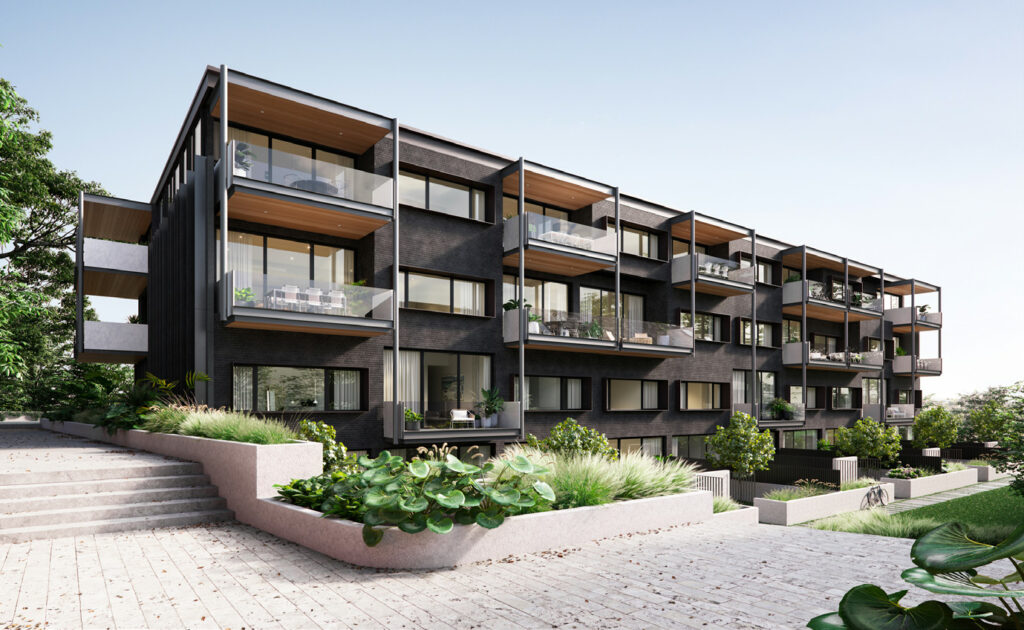 Developed by Stark Property, the precinct comprises two commercial and three apartment buildings including a mix of newly built residences and the architectural refurbishment of the former Hills Laboratories building. Hills Village has been designed for community and lifestyle, sharing open courtyards and common grounds resulting in a thoughtfully designed pocket neighbourhood, maximising the space and enhancing amenities which includes a 25 metre lap pool.
Hamilton, where we are working together to create a city with a strong future.