If you are looking to invest in commercial property, undertake a commercial or residential development project, refinance, purchase a business or source bridging finance, then you need to know what you're doing.
But understanding the intricacies of commercial funding is a time-consuming and complex task. That's where Strata Funding can help.
The team of commercial finance consultants at Strata Funding has extensive industry experience sourcing funding packages for commercial properties, developments. businseses, sub-divsions and more. This experience, coupled with the long-standing associations we have with banks, lending institutions and specialised lenders, means we know exactly how to represent your requirements to a lender.
Our consultants can provide valuable input on property and business finance and can work with you to achieve your goals. We act on your behalf and value confidentiality and professional service.
The Process
To gain a full understanding of your requirements, we first meet with you for a no-obligation discussion. Once we have established your needs, we indicate how much we can assist, including reviewing the options available to you.
Our fee is performance-based within agreed parameters.
Success in business is about recognising your strengths and using the skills of other professionals to support you and your business.
If you are looking for assistance with sourcing commercial funding, then speak to one of the professionals at Strata Funding today. We're here to help.
We Source Funding For:
Investment and owner-occupied industrial, commercial and retail property
Commercial and residential development projects
Commercial and residential subdivision projects
Rural and horticultural
Hotels, motels and budget accommodation – freeholds, leaseholds and going concerns
Management Rights
Business Finance – working capital loans, plant, stock and debtor financing (this facilities that do not require collateral property security)
Debt restructuring
Bridging finance
Venture and equity finance
Funding of business acquisitions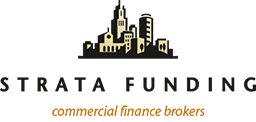 FSP:86041
9 Hargreaves Street, Freemans Bay
Alan Robertson (Director) 0274 923 539
John Chapman 021 708 818